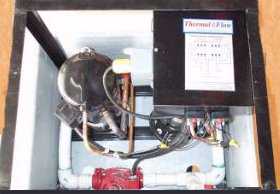 Two Compressors with electrical components
Three Compressors with electrical components
Water Cooled Condenser Coil

The over-lapping coverage of the non-fouling spray nozels (pictured above) along with a high water flow rate over the coil area, continuously flooding the condenser coil, prevents scaling.

The compressor box (pictured to left) holds one, two, or three compressors and the electrical components and controls in a water proof fiberglass enclosure.

The water circulating pump is also inside the easy access compressor box allowing for simpler maintenance procedures.